Sea view
Restaurant
Cesenatico
The excellence of Romagna cuisine… to enjoy in complete freedom
Quality and freedom of choice…
"Tailor-made" for you!
Drinks during meals without restrictions. In addition to lemonade, orange soda, cola, still or sparkling water, you can choose among four quality wines served in the traditional bottle of Romagna: Sangiovese di Romagna IGT, Verdicchio di Jesi IGT Rosatello of the Euganean Hills and Pignoletto Frizzantino of the Imolesian Hills.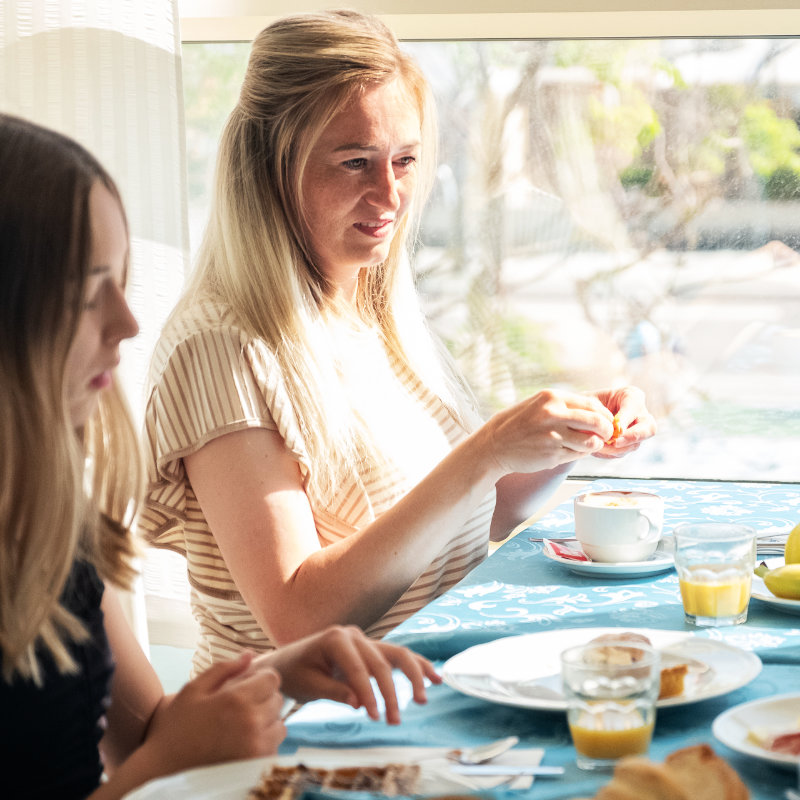 Breakfast
For breakfast you will find a tempting buffet with sweet and savoury specialities, where the choice will not be that easy:
8 types of bread, some of which home-baked.
Homemade cakes, croissants and hot stuffed pastries
Cornflakes, muesli, homemade jams, honey and Nutella
Freshly made crêpes and waffles filled upon desire
Fruit juices, yoghurt, fresh, dried and candied fruits
Cold cuts and cheeses, soft-boiled and fried eggs, omelettes, hot smoked bacon.
5 kinds of coffee, cappuccino, 12 kinds of tea, hot chocolate.
Corner for organic products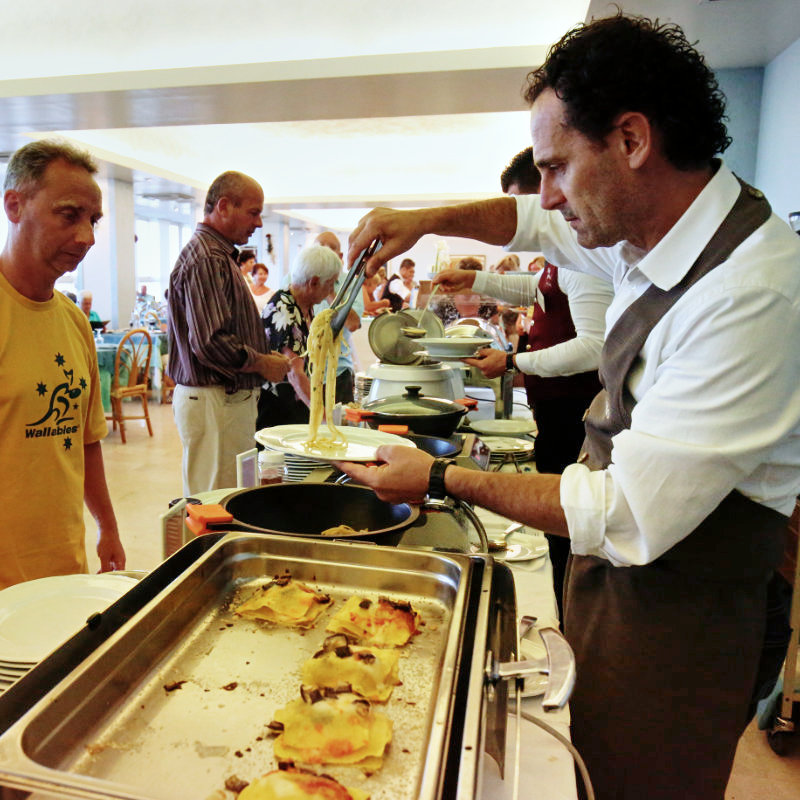 Lunch and Dinner at the Royal Restaurant
At lunch and dinner, our chefs Paolo and Mirco welcome you with their rich buffets, assisted by the dining room staff:
Hot and cold starters such as pizza, bruschette, grilled vegetables, carpaccio, seafood salads, Chef's salads and cold cuts of the day, fresh vegetables and hot side dishes await you in the "self-service" buffet
Five first courses and the four main courses of the day with meat, fish, vegetables and much more will be prepared and served to you in the catered buffet.
The cheese and jam buffet, fresh fruit buffet, fruit salads, fruit in syrup, cakes and desserts complete the choice available to you, along with the ice cream display cabinet.
And last but not least, once a week, 'Theme Evenings' with the most famous specialities of Romagna cuisine!!!
Our chefs are on hand to prepare dishes tailored to different dietary requirements (children, various intolerances, vegetarians, vegans, diabetics, etc.).
Fancy spaghetti with clams or fritto misto? Instead of returning to the hotel for lunch, you can choose to enjoy our chef's delicacies directly with your feet on the sand!
Customised Menus
Menus for children of all ages
Customised menus adapted to different dietary requirements (vegetarians, diabetics, gluten-free, etc.)
SOS Mums
Our chef is at your disposal for the daily preparation of vegetable or meat broths, vegetable purées, baby food, pasta, sauces and main courses. You have access to a 24-hour fridge at no extra charge.
Quality of products
Quality is one of our focal points. High quality in general, and the freshness of the food products we use in particular, are really close to our hearts.